Introduction
The main purpose of Cirkuit is to provide a KDE interface for various graphical description languages commonly used to generate publication-ready figures and plots. Cirkuit offers the opportunity to generate a live preview of the source code typed in the main window and to export the result to various popular graphic formats, such as PDF, EPS, SVG, PNG, JPG and others. Typesetting of LaTeX formulas is another important feature of Cirkuit.
Screenshots: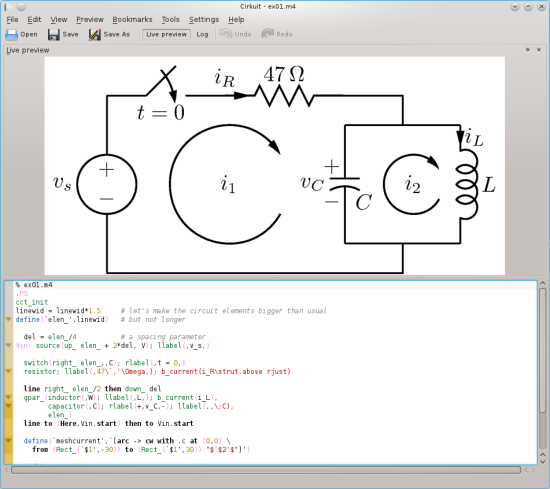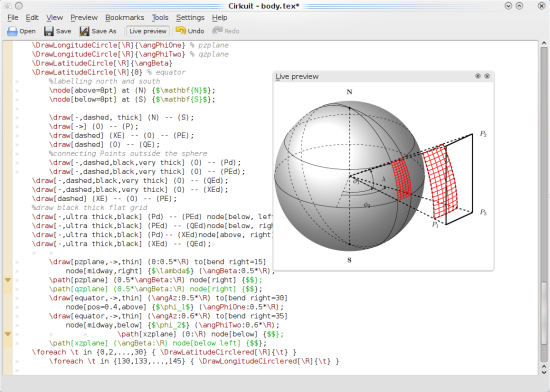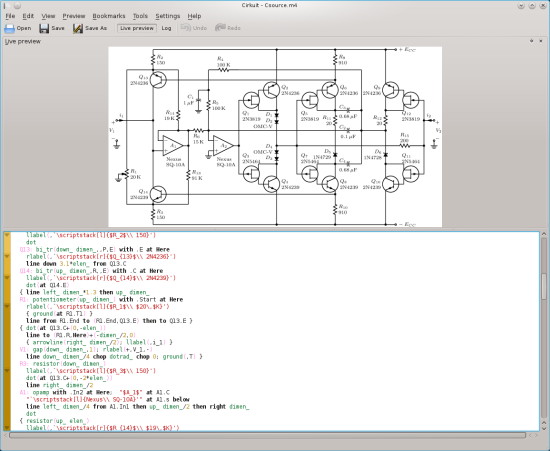 Supported Languages
Initially Cirkuit was born as a GUI for Circuit Macros by Dwight J. Aplevitch. Afterwards, it has been extended to allow the use of additional graphical description languages. At the moment, there are three "backends": Circuit Macros, PGF/TikZ and Gnuplot.
Cirkuit provides a unified interface and workflow to all the available backends. The Backend system is inspired by a backend used in another popular KDE scientific app, Cantor. Creating a new backend is fairly easy and users are invited to contribute their own.
Integration with KDE technologies
Cirkuit was born as a Qt application but it is now using a wide range of KDE technologies. The most evident to the user is the editor, which is based on the Kate part. Another features that is currently in development is the integration of Get Hot New Stuff, which will allow users to share their own graphics and templates. Behind the scenes, other powerful technologies such as KIO, KConfigXT and services/plugins are also used.
Cirkuit is hosted on git.kde.org, currently in playground. The project homepage can be found here.
For further information on Cirkuit, see the following links: