Darkroom is a batch processor of RAW images, which are images produced by Digital Single Lens Reflex (DSLR) cameras, basically it's a dump of the internal memory of the sensor, in a sense it is the digital version of the film, while a JPEG/PNG image would be the digital version of the photographic print, hence the application name "Darkroom", since it was the name given to the room where silver films are transformed.
The target user profile of Darkroom is "William", a passionate digital photography amateur. William takes a lot of pictures, and since he wants to be sure he gets the maximum out of his pictures, he shoots photos as RAW. But William likes to share his passion with friends, or on the internet, or print them, and this means he needs to convert his RAW images to a file format that can be easilly seen and used by other people, Since William takes a lot of pictures, he needs to be efficient when doing the convertion, and have the possibility to easily handle a lot of images at the same time.
There aren't many applications in the Free Software world that enable this workflow: there are some GTK-based applications, there is a command-line tool, dcraw, which is used by Darkroom, Digikam, and Krita when decoding RAW images. But there was nothing that would integrate nicely in KDE. I see Digikam as good for managing my collection of pictures, and quickly do some light editing, while Gwenview is a fine light-weight image viewer - the KDE4 version is really good, but it seems unable to open RAW files at this time. Krita is specialized in high-end single image editing and creation. And now, Darkroom comes to complete the set of KDE tools for photographers.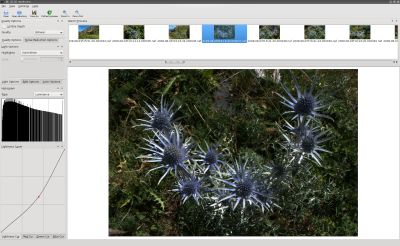 The goal for the future is to keep making William's life simpler and smoother, allowing him to work faster. There are many interface improvements that need to be implemented, for instance adding filtering support to the list of pictures, and so on. I am also wondering how KDE technologies can be used in Darkroom: though I don't want to see any collection management features in Darkroom, it could still be interesting to populate the list of images to process by using a
NEPOMUK
query, for example.